Junior 2 Explore The Fire That Shaped London
22 Jan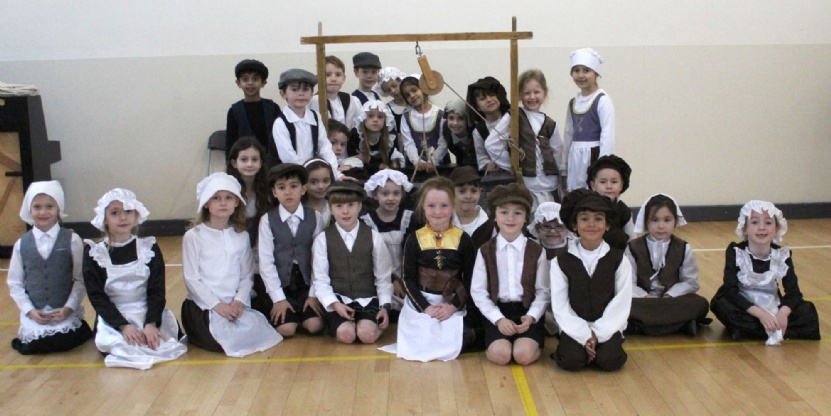 Cross curriculum experts History Off The Page helped Junior 2 explore the fire that shaped London.
Picture the scene - it is 1666 and London is a thriving capital city. Narrow streets of closely built timber frame buildings tower over you as you walk within the city's walls. Life after an outbreak of plague is slowly starting to get better. Then, the faint whiff of burning quickly transforms into a raging fireball of thick smoke filled with red-hot sparks. For London is alight! A fire that started on Pudding Lane is on the march, consuming everything in its path.
Thanks to cross curriculum experts History Off The Page, this was the scene that unfolded for our Junior 2 apprentices on Tuesday 21 January. Our children spent the morning on the streets of London, learning trades common to the era such as Scriveners, Apothecaries, Leather Workers, Cordwainers, Pewterers, Perfumers, Tailors and Weavers. As they worked news arrived that the fire was spreading. With the flames drawing closer, the children acted to stop it, forming fire lines to move buckets of water to the inferno and tearing down local buildings, and that was just before lunch!
Then in the afternoon, the children faced the challenge of excavating what was left of the charred city, helping to start the process of rebuilding by piecing together singed legal documents and returning personal belongings.
It was a truly fascinating day, that gave the children a rich, detailed experience of this period in history. Junior 2 teacher, Ms Holmes, commented, "The children had a lot of fun, History Off the Page are knowledgeable and enthusiastic and their role-playing workshop really engaged the children."
Many thanks to the parents who dressed up and assisted.