Crackley Triumph At Coventry Festival Of Speech And Drama
30 Nov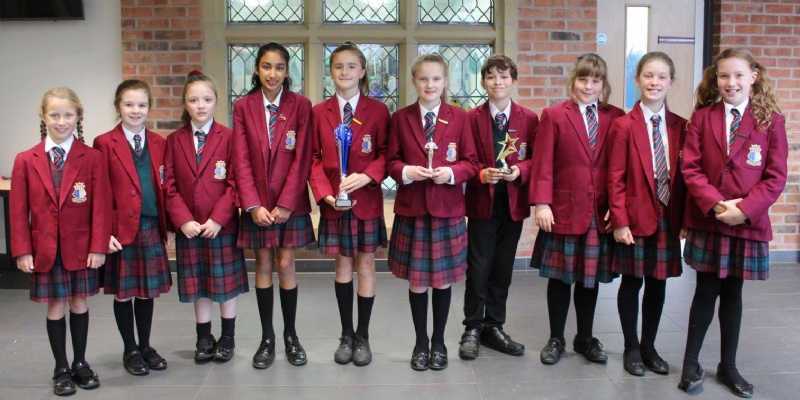 On Saturday 24 November 12 Crackley Hall pupils from the school's Drama Festival Club competed in the Coventry Festival of Speech and Drama at Bablake School. It proved a long, but very successful day.
During the morning session Key Stage 2 pupils took part in the Group Verse class. They performed The Old Wife And The Ghost against extremely competent groups from specialist arts school, Pattisson College. Their performance delighted the judges and was rewarded with a superb score of 92% (anything over 90% is classed as an outstanding performance). That result just pipped Pattison at the post, reversing the result from last year. The Key Stage 2 pupils were awarded the 'Oscar Trophy' as a reward for their first place.
Then brave six-year-old Jia Mehta impressed the judge in the Humorous Verse class with her solo rendition of My Mother Does My Homework, scoring a brilliant Highly Commended with 85%.
The evening session started with Elle Weir and Lily Bryson's super duologue The Three Bears. Then, against stiff competition from other local schools, Kiran Dhillon and Jasper Nicholls took first place with another outstanding score of 90% for their humorous duologue, Excuses, Excuses. Finally, the Drama Group delighted the adjudicator with a fantastic performance of the hockey scene from Daisy Pulls it Off, scoring an absolutely amazing 95% to take the coveted 'Blue Trophy' for first place in the Small Dramatic Scene category against the accomplished Cobweb Theatre Company.
Drama teacher, Nicola Wildey, was ecstatic commenting, "I am so very proud of all the children who have worked so incredibly hard all term to learn their lines. They have been so dedicated attending numerous rehearsals during break and lunchtimes. Well done to them all, this is an absolutely outstanding result."