Junior 6 Visit The Victorian Age
17 Dec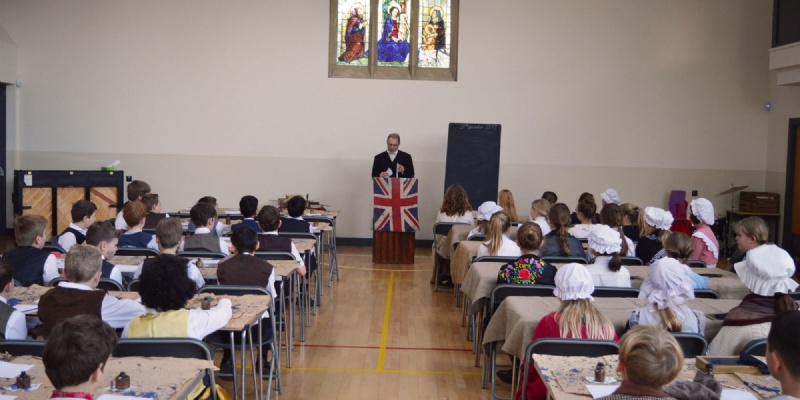 On Thursday 13 December Crackley Hall's Junior 6 pupils and teachers were transported back to Victorian times courtesy of history specialists, History Off The Page. The school hall was transformed into a village school from the Victorian era, where Master Gray welcomed his charges to sit and learn a curriculum suitable for a 'master' or a 'girl'.
The children, all dressed for the part, sat in silence in orderly rows in their new classroom facing the chalkboard. Discipline was strict and the teacher was to be addressed as 'sir' at all times. A very different style of teaching awaited Crackley's most senior pupils. The boys had instruction in Mathematics whilst the girls were encouraged to copy Bible passages and undertake dictation, activities that 'might', in the words of Master Gray, develop them into a supportive wife for their future 'heads of house'.
Crackley's boys and girls dutifully adopted their roles for the day and immersed themselves in all things Victorian; with a dip pen and ink, for the boys, or a chalk and slate, for the girls, they studiously undertook the lessons their new schoolmaster presented.
In the afternoon, the 57-strong class was challenged to select, learn and perform an act of their choice from a contemporary Victorian Music Hall bill. The children put on a programme of fine performances, with strongmen, comedians, hearty songs and a flea circus all jostling for the limelight.
Modern day Junior 6 teachers Mr Lamprecht, Mrs Vaughan and Mrs Horan were impressed, commenting, "The day was a lot of fun, it really brought history alive and it was a fabulous way to round off our term studying the Victorians."