Grandparents and Parishioners Enjoy Crackley Cream Tea
05 Jun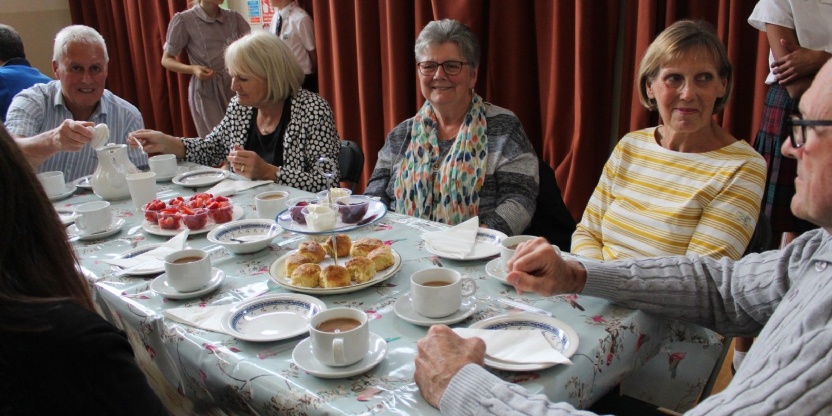 Grandparents and parishioners were welcomed into school for a special afternoon tea on Wednesday 5 June.
Organised by Crackley Hall's Minnie Vinnies, the junior arm of the charity St Vincent de Paul Society, the Crackley Cream Tea is an annual community event aimed at the older generation.
The School Hall reverberated with friendly chatter and the clink of china as teapots and plates piled high with scones, strawberries, jam and cream were carefully served to the guests.
Alongside their tea, the parishioners and grandparents enjoyed a programme of entertainment as pupils from across the school took turns to perform. The entertainment included the School Orchestra, Choral Group, Chamber Choir and the Choral Speaking Group as well as a number of individual solo performances. All the children performed with confidence and panache much to the delight of the gathered guests, but the highlight of the afternoon had to be the Choral Group's evil chuckles as they belted out the pirate song 'Give Us What You've Got'.
After the entertainment, there was just time for the Minnie Vinnies to chat to their guests as they finished their tea.
Mr Duncan Cottrill, Deputy Head, popped in to welcome everyone to the school and to thank Mrs Dolores Simmonds for helping the Mini Vinnies organise the community event.
Mrs Simmonds, Mini Vinnies Co-ordinator, said, "We had a lovely afternoon, the St Vincent de Paul ethos is to make a difference to people's lives and our Mini Vinnies' Crackley Cream Tea for our local community was clearly thoroughly enjoyed by all."