Nous Saluons Le Retour Junior 6
03 Jun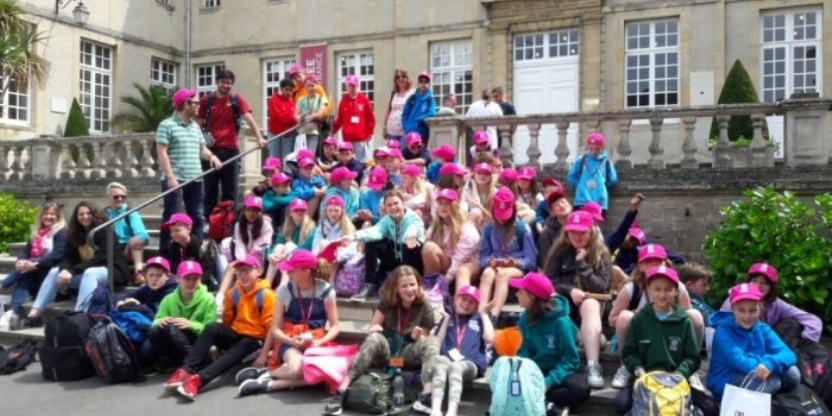 Just before half term Junior 6 enjoyed a spectacular six days away in Normandy.
Their packed itinerary included a range of cultural, historical and leisure sights and activities, as well as the opportunity to put into practise some of their French language skills. A total of 51 pupils and six staff travelled from Kenilworth to Normandy by coach and ferry and stayed in a picturesque gîte in Clinchamps-sur-Orne near Caen.
During their week away pupils had the chance to visit the Vieux-la-Romaine Roman museum and archaeological excavation site, they also learnt how to make bread, toured the town's beautiful Basilica where, in the Crypt, they were able to attend Mass. As D-Day has featured in their History studies their visit to the bunkers near Arromanches, with its 360˚ cinema experience and a walk across the sand on the landing beaches was always of course a poignant experience.
Alongside the educational activities there was plenty of time to play and everyone had a fabulous day out at a local theme park, 'Festy Land', and enjoyed an evening BBQ. The children also visited Bayeux to take in the famous Tapestry and the town's Cathedral, along with some essential last minute souvenir shopping. On the same day the group also visited the nearby War Cemetery where the children were momentarily silenced by its sheer scale.
Thankfully, the weather was kind throughout the stay and volleyball and ice creams filled any spare time the group had. All in all the trip was a resounding success and has provided many magical memories for our Junior 6 to take away with them as they come towards the end of their time at Crackley Hall.
Thanks go to all those involved in organising the trip and to the accompanying members of staff Mr Duigan, Mrs Horan, Mrs Vaughan, Mrs Paphitis, Mr Kefalas, Mr Stedeford and Mrs Williams.