Fees
2019-2020
Registration fee £50.00 (non-returnable)
A non-returnable deposit of £300 will be requested at the time of a place being offered, and this will be refunded after the end of the final term which the pupil spends at the school.
Fees
Reception
including lunch
£3,240 per term*
Junior 1 and 2
including lunch
£3,416 per term*
Junior 3, 4 and 5
including lunch
£3,607 per term*
Junior 6
£3,458 per term
Swimming
£20 per term
*fee includes lunches
Please note that it is the school's intention to increase the Years where the fees include lunch each year; so in September 2020 the fees for Junior 6 will also include the cost of lunches.
Reception class where claiming free entitlement
Children are entitled to 15 hours a week free-of-charge for the school year.
The entitlement starts the term after the child turns three and ends the term after they turn five or at the end of Reception, whichever is earlier.
Where parents are in receipt of the free entitlement then the charge for additional services is:
Reception additional services including lunch - £2, 577 per term.
payment of fees
Fees are due on or before the first day of each term. Advice is sent by email when bills become available for a new term.
Parents are asked to choose to settle their account by direct debit or direct payment into our bank account. Please note that the Foundation is not able to accept cash for payment of fees.
Parents can now view their accounts and bills for each term on line using the Parent Bills and Online Payment System.
A reduction is made for brothers or sisters attending a *Foundation school concurrently. For the first child the full fee is payable; there is a reduction of 5% each for the second and third sibling rising to 10% each for the fourth and subsequent sibling. Sibling discount only applies whilst there are two or more children attending the *Foundation schools and excludes children joining Little Crackers after 1 September 2015.
Interest is charged for late settlement of fees at a rate of 6% per annum or part thereof. Letters relating to late payment of fees are charged at £10.
School Fee Plan are a provider of finance for School Fees and they may be able to offer you a service. Please click the banner for further information.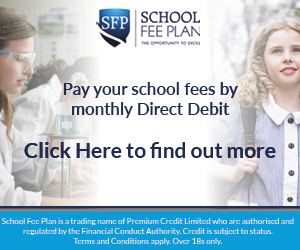 During periods of optional leave no consideration shall be given to remission of any fees. Those who pay a deposit to secure a place, subsequently turning it down before admission, will forfeit the deposit in its entirety. The school requires a term's notice of a pupil's departure from school; this requirement also applies for pupils joining the school. Parents should ensure they are familiar with the school's terms and conditions.
*Princethorpe College, Crackley Hall School and Crescent School.
fraud prevention
Parents are asked to continue to be vigilant in respect of any communications purporting to be from the school requesting money that do not match our normal procedures.
Please note:
invoices are only available through the on-line parent fee portal;
our bank account details will NOT change during the academic year 2019-20.
if you receive an email purporting to amend our bank details, do not make any payment and please contact us by telephone immediately to clarify;
we do not email details of unsolicited discounts for payment of funds.
Please do not hesitate to contact us if you have any concerns about any communication you receive and in particular if you receive any request for payment of funds outside our normal routines.
bursaries
The Foundation wishes to extend the benefit of the school's Catholic ethos, academic and social excellence to families who may not be able to pay full fees through the provision of financial assistance by way of bursaries.
Bursaries are available for any external candidates regardless of current school or religion. The main financial criteria are the household income and net assets. At Crackley Hall bursaries would normally only be awarded from Junior 3 upwards.
Completed applications should be forwarded to the Foundation Bursar with supporting documentary evidence. Applications for bursaries are normally reviewed by external consultants.
The Foundation Bursar,
Princethorpe College,
Rugby,
Warwickshire
CV23 9PX.
Optional Charges
After-School Care to 6.00pm (includes a snack)
£4.75 per hour or part thereof
After-School Care from 6.00pm
£10.00 per half hour or part thereof
Lunch
£3.10 per day where added to the bill in advance for all days throughout a term.
£3.25 per day where added to the bill in advance for less than all days throughout a term.
£3.40 per day other than the above.
Learning Support - Individual Sessions
£16.50 per half hour
Music and Extra-curricular Activites
Music lessons are available for various instruments. Music fees are negotiated with, and invoiced separately to, parents by tutors to whom enquiries and payments should be directed.
Similar arrangements apply to extra curricular activities provided by external agents.