Mary And Marlene Commemorated On St Joseph's Day
22 Mar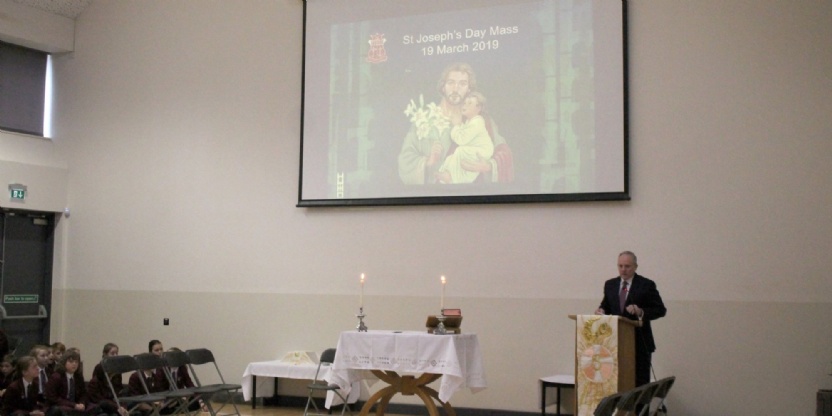 We were delighted to welcome so many friends, former staff and past pupils of Crackley Hall and St Joseph's to our St Joseph's Feast Day events on Tuesday 19 March 2019.
Our St Joseph's Day Mass, celebrated by Fr Kevin Hooper, was preceded by a very special service of commemoration in honour of two very important ladies in the history of the school, Mrs Mary O'Farrell, former Chair of Trustees and teacher, Mrs Marlene Head, who both sadly passed away in September 2018.
The touching outside service, which was attended by close family and friends of Mary and Marlene, fondly remembered the pair and recognised their huge commitment to the school over many years. Prayers expressed the school's gratitude to them both, for their kindness, laughter and devotion and asked for comfort and strength for their families.
The Chamber Choir sang The Lord's My Shepherd, before Mr John O'Farrell and Mr Tom Head were both invited to unveil benches in memory of their dear wives.
The party moved inside for the Mass involving the whole school community. Rob Duigan, Headmaster, and Fr Kevin, welcomed the congregation, including former headteachers, Sr Philomena Bowers and Jane Le Poidevin, to the celebration of the Feast Day of St Joseph, the patron saint of the school. Both once again thanked God for the loving support and guidance Mary and Marlene had given to so many pupils, staff and parents over the years.
The beautiful Mass was a fitting tribute to both ladies, with stirring hymns and music from the Chamber Choir and Choral Group, thoughtful prayers and readings, communion and a sermon from Fr Kevin about St Joseph, husband of the Virgin Mary, and his role as model father, skilled craftsman and pious believer who receives grace at the moment of death.
Mr Duigan drew the Mass to a conclusion with best wishes to the families and friends of Mary and Marlene, thanks to Fr Kevin, the altar servers, offertory bearers, readers and singers who had all performed their roles so beautifully and to Mrs Jackson-Mayne, Mrs Simmonds and Mrs Olden who worked with them.
The Feast Day was rounded off with well-deserved cupcake treats for all the children and a delicious afternoon tea for our visitors in the school hall.