Junior 6 Rise To Mr Hester's STEAM Challenge
12 Feb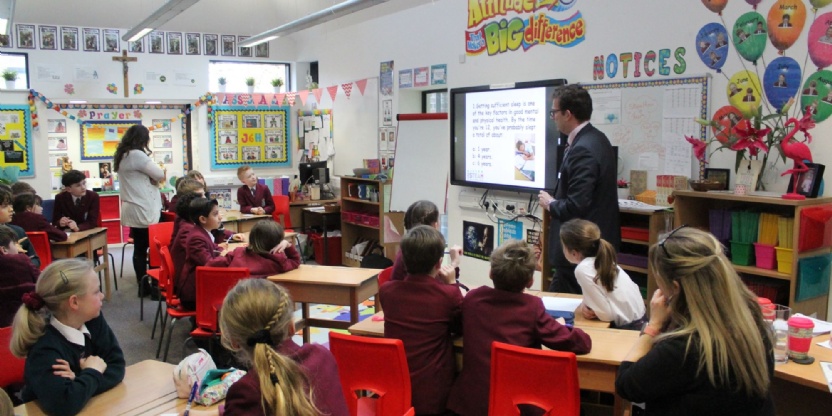 Junior 6 welcomed a special visitor on Tuesday 11 February when Foundation Head, Ed Hester, visited Crackley Hall to set them all a special STEAM Challenge.
Mr Hester began by stressing the importance of the STEAM (Science, Technology, Engineering, Art and Mathematics) subjects to the modern world. He shared with the children how they run through all our lives and how, as pupils of the Foundation, they could embrace STEAM to forge their own futures.
Mr Hester invited the children to test their STEAM knowledge. Working in groups of four he asked the pupils a series of questions on a wide range of topics, from binary to bones, scientists to stars to the speed of light and even mind-boggling optical illusions, the children all enjoyed puzzling out the answers. After the quiz Mr Hester set them one further design challenge. Using just tape, scissors and index cards, pupils worked together to build a free-standing tower. The children all took different approaches, testing out structures and the towers began to grow. In just ten minutes many were reaching lofty heights, with the tallest finally measuring in at 69.1cm. They all had fantastic fun.
Mr Hester commented, "STEAM subjects are essential for all our futures, we can't even begin to imagine the changes that are going to happen to our world in these children's lifetimes. Hopefully my session today will inspire them to engage in every STEAM related opportunity presented to them during the rest of their time at Crackley and when they move on to senior school."
Well done to all the children, the results were:
Best Quiz Score:
Tesla: Jorja, Seb, Lucan N, Oliver
Highest Tower:
Einstein: Nancy, Avar, Harvey.
Combined Scores Overall Winners:
Joint 1st:
The Newtons: Bella, Annabel, Sam, Aaron
Newton: Hunter, Ajunee, Thomas and Archie