Nine Pupils Qualify For ISA Cross Country Nationals
12 Feb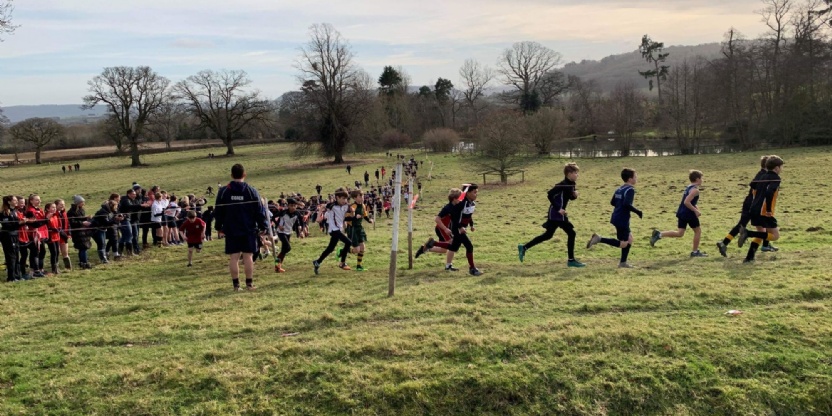 Crackley Hall had its best ever year at the Regional ISA Midlands Cross Country at Bedstone College on Wednesday 5 February with nine pupils finishing in the top 10 for their race and qualifying for the Nationals.
The course was exciting and challenging involving undulating fields, hills, streams, woodland, gravel and even mole hills! The U9 Girls and Boys had a 1500m course while the U11s took on a 1800m course that crossed two streams. There were over 120 children running in each race.
The school took 39 runners who enthusiastically tackled the course's tricky twists and turns with courage and determination.
Nine runners have qualified for the ISA Nationals, and will travel to Worksop College, north of Mansfield, on Friday 20 March. Huge congratulations to Martha, Sam, Alex, Elle, Issey, George, Dexter, Sid and Leonardo.
In the team events the first four across the line count so with so many top placings Crackley also secured first place for the U9 Boys, second place for the U9 Girls and U11 Boys and third place for the U11 Girls events.
A special mention must go to George Moreton who stopped to help Sid who had a stitch. He put his arm round him and helped him to carry on until another of our lads passed them. George then asked Sid if it was okay for him to carry on. George went on to win the race and Sid finished third, a fantastic achievement for them both but what is more important was the care and support the boys offered to each other, an example of Crackley Spirit at its best.
Commenting on the event, PE Teacher, Kat Vaughan, said, "As always, the children were exceptionally well behaved, a real credit to the school, and a pleasure to take to the competition. They were nervous but excited and ran courageously to achieve a superb set of results."
Running for Crackley were:
U9 Girls: Elle Weir 2nd, Issey Cleary 3rd, Elsie Glover 24th, Esme Card 26th, Jasmine Staveley 47th, Merryn Cleary 63rd, Holly Lloyd-Evans 65th, Olivia Lamb 74th, Penny Thomas 76th and Lexi Ward 82nd.
U9 Boys: George Moreton 1st, Dexter Robinson 2nd, Sidney Penn 3rd, Leonardo Pavli 4th, George Wilcox 26th, Aaron Anderson 31st, George Knott 65th, Marley Hardwick 80th and Dillon Horan 90th.
U11 Girls: Martha Summers 5th, Rosa Davis 26th, Emily Hutton 28th, Kiran Dhillon 29th, Rosie Moreton 35th, Louisa Cooper 46th, Francesca Voisey 47th, Anabel Davis 48th, Scarlett Hammond 60th and Cadie Hardwick 88th.
U11 Boys: Sam Grindal 4th, Alex Vaughan 7th, Henry Fox 24th, Iman Khan 33rd, Soren Wasley 36th, Conor Horan 47th, Jimmy Loftus 59th, Maxwell Kiely 76th, Freddie Young 77th and Finlay Williams 86th.