Foundation Junior Schools Cross Country Challenge
13 May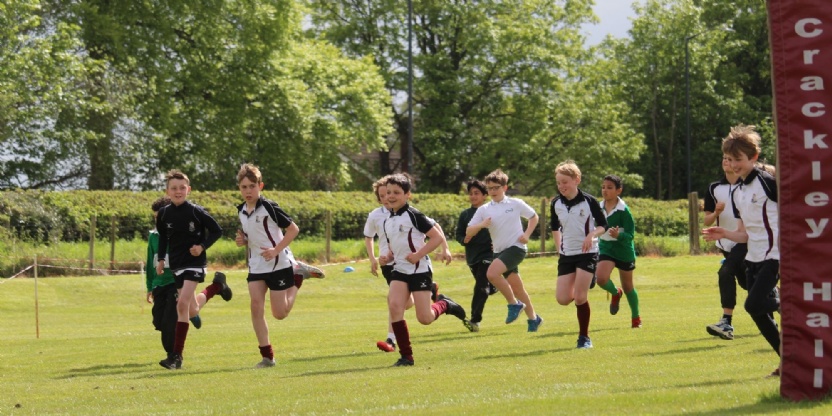 Crackley Hall was excited to welcome Crescent's Year 5 and Year 6 boys and girls on Wednesday for our first ever Foundation Junior Schools' cross-country race.
The children were keen to compete and enjoyed the winding 1500m course around the school field. They set off with plenty of energy and enthusiasm and demonstrated great determination and perseverance to complete the course. For each race the first six athletes positions counted for the team score.
The U10 girls' race was the first to get going and it was a close matched affair with Elle running a good tactical race. From the start she tucked in behind Crescent's Evie and matched her great pace, in the end it all came down to the final sprint and Elle pushed hard and was delighted to finish first in 6 minutes 11 seconds. Agnes ran well to come in third.
The U10 boys were next to go, strong competition between the Crackley boys saw a fast pace set with the Crescent boys following on. It was incredibly close with George and Sid fighting for the lead the whole way around. In the end George just pipped Sid to finish in 5.47 but both boys pushed themselves out of their comfort zone in an excellent performance. Leonardo finished third. The Crackley boys' strong run helped the team to claim the win.
The U11 girls showed grit, determination, and maturity. Fantastic running from Rosa saw her lead from the front and come home first in 6.23 with Francesca following on and taking third place.
The final race was U11 boys which again did not disappoint with pupils giving their all and showing a fabulous work ethic and team spirit. Max ran a strong and determined race to claim victory in 5.58 with Rafferty finishing third, again the boys' efforts helped Crackley claim the team win.
All in all a fantastic performance by all of Crackley's pupils of which we are very proud, not only whilst running but also for their support of one another cheering and encouraging all the runners along. Well done all.