Wild Garden Celebrates Queen's Platinum Jubilee
14 Jun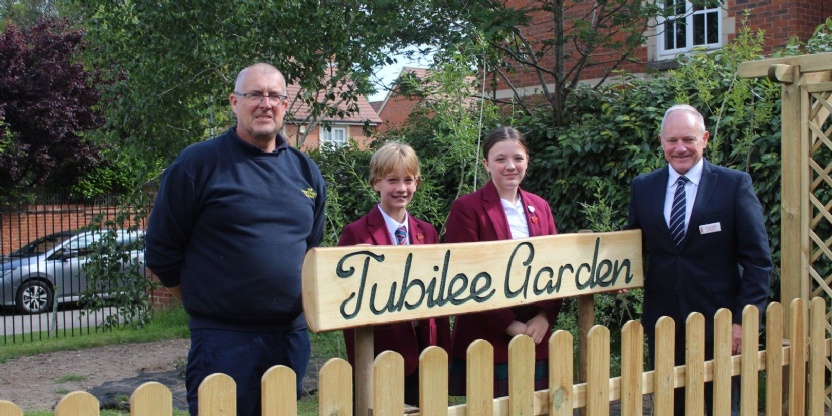 Crackley Hall School has marked the Queen's Platinum Jubilee with the creation of a new wild garden at the bottom of the school's playground. The new Jubilee Garden was officially opened by the Headmaster after assembly on Monday 13 June.
The Head Boy and Head Girl, Aaron and Lily, helped to unveil the new garden's sign in front of the whole school who had gathered on the playground for the event.
The new garden has been landscaped as a semi-wild area. It is accessed through an arch and path planted with willow, that as it grows will be woven to create a tunnel. The garden includes native trees purchased by the PTA earlier this year as part of the Queen's Green Canopy initiative, a small wildflower meadow with seating and a bird bath.
The Jubilee Garden is intended as a space for the children to spend time relaxing together with their friends away from the busy playground at breaktimes and lunchtimes.
The plan is to continue to develop the garden year on year and for the Jubilee Garden to be looked after by the school's gardening stewards.
Headmaster, Rob Duigan, said, "We hope the garden will grow into a peaceful wild space that will encourage wildlife. It has transformed what was a patch of unused land into a space where the children can enjoy nature through the seasons. I am really looking forward to watching it grow."