Crackley Take Centre Stage At Leamington Festival Of Arts
14 Jun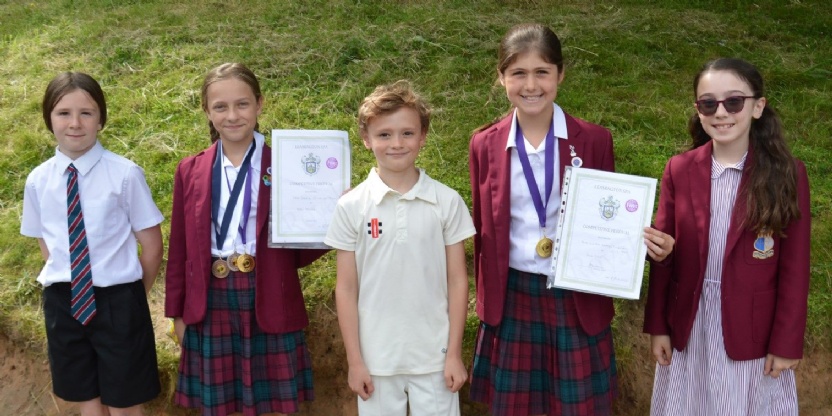 What a fantastic day Crackley Hall School had at the Leamington Festival of Arts on Saturday 11 June. All together, Crackley pupils came away with five gold medals, six silver medals, five bronze medals and four certificates, an amazing achievement.
Crackley children from Junior 3 up to Junior 6 competed with many others, including private LAMDA pupils, at the Motionhouse Studios, performing a variety of poetry and prose to a distinguished adjudicator. The children from Crackley showed commendable confidence and performance skills and were a cut above the rest, winning a whole host of gold, silver and bronze medals and receiving excellent feedback from the adjudicator who was very impressed with the high standard of performance on the day.
Special mention must go to Willow R from Junior 6 who won a gold, silver and bronze medal for her performances. Congratulations also to Elsie G, Leo C, Mairen S and Marley H who were our other gold medallists.
For many of the children, this was the first time they had performed at an arts festival and they certainly rose to the occasion showing enthusiasm and confidence. Mrs Wildey was so proud of the hard work of each and every one of the children who had entered, commenting, "Crackley had its most successful results to date. The competition was to a very high standard but the children absolutely smashed it. They all did brilliantly not just the winners, they all gave their very best. It's another excellent result for the performing arts at Crackley!"
There was also good news for Junior 2s, Henry F, who was delighted to win the Henri Shawe Trophy for Piano Grades 1 and 2, when he competed at Warwick School, in a separate festival event. It is wonderful to have such talent here at Crackley Hall.