Foundation Chapel Hosts Crackley Hall's Advent Service
19 Dec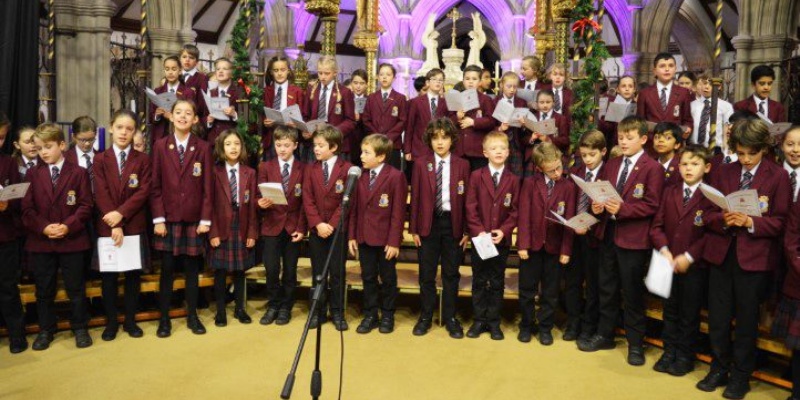 Crackley Hall's Key Stage 2 Christmas Advent Service was a celebration of the Spirit of Christmas. It took place on the evening of Wednesday 12 December in the gloriously atmospheric setting of Princethorpe College's Our Lady of the Angels Chapel. Led by Junior 5 and 6 the service was filled with carols, readings and music, punctuated by the careful lighting of the candles on the advent wreath.
Parents, grandparents and friends were welcomed by RE Captain, Madeline Lambeth, before the service opened with the traditional solo verse of Once in Royal David's City, sung beautifully by Aaron Cooper from Junior 5.
Head Boy, Joseph McCulloch and Head Girl, Francesca Kelly then announced the opening of the green doors, to the left of the Chapel, each heralding a thoughtful reflection from our speakers.
Recorder and flute performances lifted the spirits, as did the music of the orchestra who played 'Rudolf the Red-nosed Reindeer'.
Choral poetry from Junior 5 and the sublime sound of the Chamber Choir singing 'O Holy Night', 'Jessye's Carol' and 'Christmas Song' blended excellence with wonderful storytelling. The audience couldn't help but clap their approval in between each programmed item.
There was a wealth of singing and solos showcasing superb voices and real talent; with Junior 6's Martha Harris, Amelie Read, Freddie Knot and Junior 5's Sebastian Lloyd-Evans and Martha Summers (amongst others) and the Choral Group as a whole.
So many musical moments glittered throughout the sixty minutes that it was no surprise that Headmaster, Rob Duigan, was almost lost for words as he thanked parents and friends for coming to watch the concert.
This festive cornerstone of Crackley Hall's calendar did not disappoint. Much loved music and prayer brought families together to joyfully bow their heads for the final blessing as the Advent Service came to its end.