Alton Castle Adventure Captivates Junior 5
10 Apr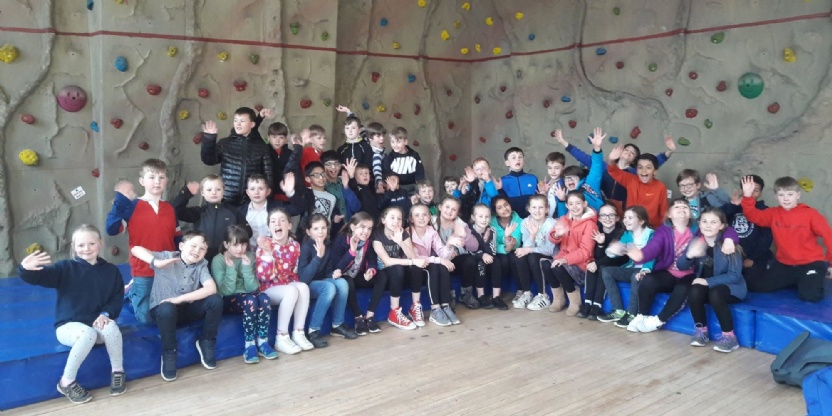 From Monday 8 April to Wednesday 10 April, Junior 5 enjoyed a wonderful trip to Alton Castle in Staffordshire where they took part in a residential retreat. The short trip was muddy, exhausting and memorable but above all, it was a lot of fun!
Alton Castle is a residential youth centre run by the Archdiocese of Birmingham. The centre promotes the personal, spiritual and social development of the children who visit through retreats based around a variety of outdoor activities, that make the most of the beautiful location.
The themed trip is packed full of fun activities and pupils were also encouraged to join in with evening reflections and prayers and to help prepare for and experience Mass.
There were plenty of exciting activities to be experienced, from bucket ball to trekking, bike riding to night line and archery to survival. The activities all provided challenges that developed the children's confidence and teamwork skills. The climbing wall and adventure course proved particularly big hits, working up formidable appetites for the delicious food that was provided throughout the stay.
The children also took part in a beautiful Mass. It was a wonderful service and some of our Junior 5's enthusiastically assisted with the readings and helped with the altar serving. After the calmness of the Mass came the excitement of the evening Talent Show and Disco, which featured a range of different acts, which were very entertaining.
And before everyone knew it, the time had come for the return journey to Crackley Hall. Weary children were met by their welcoming parents who, no doubt, delighted in listening to their many tales of this exciting and memorable trip.
Thank you to all the staff who gave up their time to support the trip: Mrs Lammas, Mrs Roberts, Mrs Hill, Mr Stedeford, Mr Duigan and Mrs Blyth.
Images from the trip: