Junior 3s' Take On Ancient Greece
14 May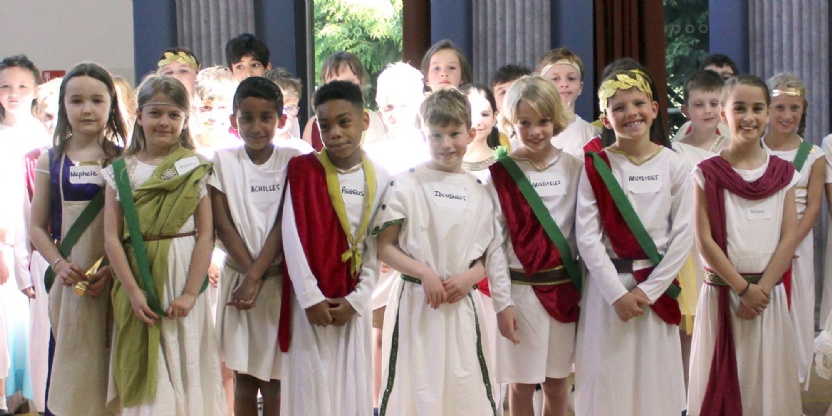 On Monday 13 May Crackley Hall's two Junior 3 classes, travelled back in time to explore Ancient Greece courtesy of history specialists, History Off The Page.
Some 2,500 years ago, Ancient Greece was one of the most important places in the world made up of small 'city-states', such as Athens, Sparta, Corinth and Olympia. Its people were great thinkers, warriors, writers, actors, athletes, artists, architects and politicians and their ideas started a way of life that is similar to the life we lead today.
Junior 3's Ancient Greece Day transported the children back to 490BC to the city-state of Athens and news that Persia has invaded Greece. Crackley's school hall was transformed into the Athenian Agora (an assembly and marketplace). Dressed in ancient Greek costumes and taking on ancient Greek names the children adopted traditional roles making their own artefacts using skills prevalent at the time. They worked as wax tablet makers, potters and painters, sculptors, fresco painters, pavement makers, lamp makers and even physicians.
As news of the impending invasion came, the children gathered to make a democratic decision to ask for help from the warriors of Sparta. Although the children were not at all impressed to discover that in that early democracy slaves, metics (foreigners), children and even women weren't allowed to vote! However, they did enjoy hearing about the famous Battle of Marathon and how the Athenians managed to defeat the Persians despite being outnumbered by them.
In the afternoon the children celebrated with a banquet, they enjoyed Greek foods including feta, figs, dates, pitta and cooked meats. There was also entertainment with dancing and a performance of the myth of Pandora. It was yet another fun-filled, fabulous learning day.
Modern day Junior 3 teachers Ms Holmes and Mrs Van Zyl were very impressed, commenting, "The day was really engaging, it really brought history and our ancient Greece topic alive."