Black History Month At Crackley Hall
18 Oct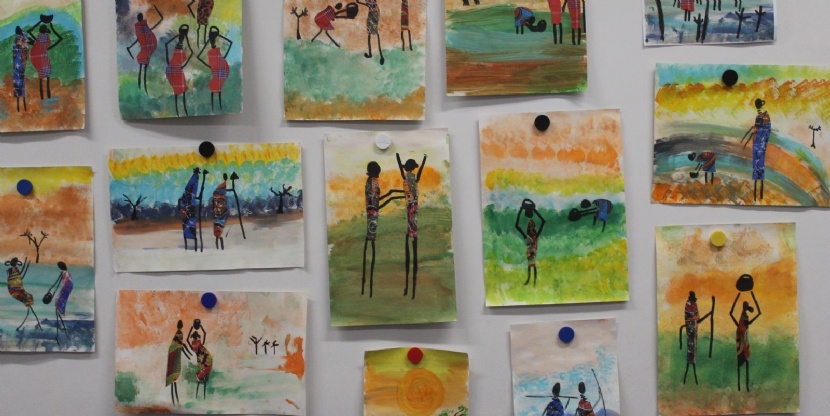 The month of October is Black History Month in the UK, and the teachers at Crackley Hall School have delivered a series of lessons, activities and assemblies to recognise and value inspirational black individuals and events that have contributed to and shaped our world today.
The month began with a special assembly to explore this important area of the curriculum. While within their classes teachers have followed their own focus of interest while delivering age-appropriate lessons on Black history and culture.
Junior 6 combined their study of the Victorian era with the celebration of Black History Month. They learnt about two significant Victorians who, despite prejudice and many challenges, made positive and hugely successful contributions to the society of the time. Mary Seacole journeyed from Jamaica to England and then to the Crimea, in her quest to build her own hospital - 'The British Hotel'. While Pablo Fanque was a British performer and circus proprietor, the first recorded non-white British circus owner in Britain. Pupils enjoyed exploring the Victorian entertainment industry and the success of Pablo Fanque's Circus Royale. It was inspiring for the children to appreciate the importance of these influential individuals.
Junior 5 were fascinated by Martin Luther King who they explored in their history lessons. They listened to his famous 'I have a dream' speech which really struck a chord with them and many left the lesson repeating those all-important words, 'They will not be judged by the colour of their skin but of the content of their character.'
During PSHECE the children investigated the story of SS Empire Windrush and listened to first-hand accounts of people from the Caribbean who took that journey in 1948 to Tilbury Docks in Essex, to then experience discrimination and be made to feel so unwelcome in Britain. Pupils were shocked to hear and see the living conditions and injustices of so many of the people who had embarked upon that trip.
The children also completed self-directed investigations exploring the lives of famous black people such as Nelson Mandela, Rosa Parks and Lewis Hamilton and the contributions they have made to society.
In their English lessons, pupils in Junior 4 also completed research on one of their chosen Black Heroes from history. They found out what they were famous for, how they inspired people and their impact on others. In the second week pupils looked at the life of the footballer, Marcus Rashford. After reading about his life growing up in Manchester, pupils understood his passion for wanting to ensure that all children had a hot and nutritious meal.
Junior 3 have researched two artists from Kenya for their look at Black History month, Sarah Shiundu and Elisha Ongere. Both artists use bold colour and African style in their work and the pupils have loved trying to mirror their style. They have done an amazing job!
They also researched Wangari Mathaai, a Kenyan woman who loved her country and who was saddened to see the deforestation there. Wangari Mathaai decided to plant seeds which have grown into trees and, by passing seeds to other women to plant in Kenya, Wangari created forest areas that number over 50 million trees. They were impressed to discover that she was a humanitarian and a great advocate of promoting decent wages for women and was the first African woman to receive the Nobel Peace prize and a Global Role of Honour before her death in 2011.
Junior 2 have investigated Esther Mahlangu (born 11 November 1935), a South African artist from the Ndebele nation. Known for her bold large-scale contemporary paintings that reference her Ndebele heritage, the patterns Esther uses are typically very colourful and geometric. The children were fascinated by her work and thoroughly enjoyed creating their own masterpieces. Lots would love to decorate their own houses in her style of artwork.
Junior 1 have been inspired by Alma Thomas to create their own versions of her piece of art – The Eclipse. They used paint and corks to create their piece of artwork they were very careful with their 'dabbing' technique.
Even Reception got involved; they investigated Usain Bolt! They watched him win his most famous races, including the Olympic Finals and thought he was amazing! He inspired them to run their own races and create their own victory poses, just like Usain Bolt. The children were 'wowed' by Usain as an inspirational person in recent Black history.
Black History Month has allowed Crackley to celebrate the achievements of Black people both in Great Britain and around the world and has also allowed the children gain an insight into their lives and experiences.